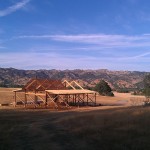 Lots of news to report from the past few months as the project develops and evolves. First, Mary has decided to move on to other, less rural, adventures. We look forward to having her (and her beautiful dogs!) visit us often! And we are extremely thankful for all the work she did in helping find the land and getting the ball rolling on so many projects! The horses that Mary had brought in to the project have now found new homes, since we didn't have the resources and ability to care for them ourselves. In the case of Aya, she's gone back to the farm where she was born!
In the mean time, two more families have joined the adventure: Julian & Heath & kids are moving their yurt to a beautiful spot on the property and Duff & Kim family have parked their pop-up trailer and are getting right to work on building a barn!
We've also upgraded the entry road to provide all-weather access, completed our yurt to provide all-weather "glamping", and are developing a central kitchen area for everyone to share dubbed the "Zocolo".
Finally, we signed an agreement with our lovely neighbors at Casa Rosa Farms to graze cattle on the property in exchange for farm products. Casa Rosa is a small organic family farm that produces a variety of produce, livestock, olive oil, and more – you can read about it at casarosafarm.com.  It's been great getting to know them better, and their young daughter is particularly thrilled to have little kids to play with "next door".
In general it's been a great time getting to know our neighbors better – we've been invited over to swim in different folks' pools, have kid playdates, and neighbors keep popping by to check on our progress and brainstorm how we can finally find a well driller.  There's a great mix of folks out in the Capay Valley and we're really enjoying getting to know them all.