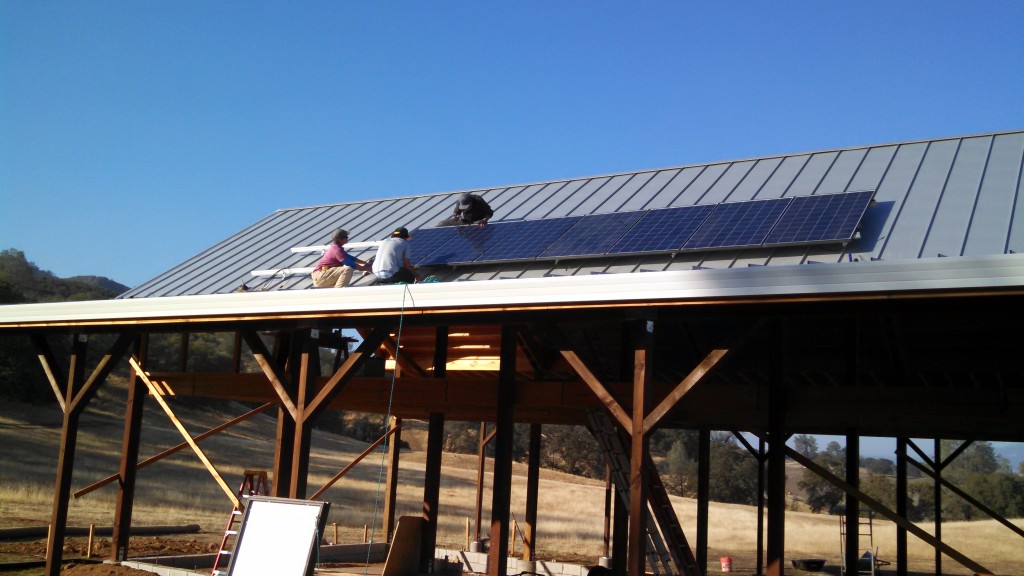 I'm getting a head start on my New Year's resolution to do a better job of posting updates. Anyhow lots to report. The barn now has solar panels and a big battery bank, thanks to the amazing Cora Saxton and Cheyenne Poor Bear, with help from Richard, Shamir, Duff, and other friends. The last components just arrived, so we should be powered up and running in January.  Sofia has been busy finishing the yurt deck and building some amazing furniture out of the scraps from barn construction – we'll take some pictures over the weekend and post them.
On the water front, we finally got a well drilling company to come out, but unfortunately the two test holes they drilled came up dry. Given how expensive it is to keep drilling, we are going to focus for now on water capture and opportunities to collaborate with neighboring properties that have wells. Water capture is particularly exciting given how much water hits the property when it rains and the ability to use the slope of the hills to our advantage, let alone as a more sustainable long-term approach instead of pumping out groundwater. Assuming El Niño 2016 is all it's cracked up to be, I can't wait to see what the water flow down the arroyos is like during a deluge.
On the farming front, it's been great getting to know our neighbors at Casa Rosa Farms better this year. They'll be doing some grazing on our property once the winter rain grows us some forage, and there may be ways we can collaborate on the olive orchard we want to put in. I spent a weekend in October helping them with their olive harvest and oil pressing, and got paid with 6 gallons of olives that are now curing in our pantry.  I'm "curing" some olive-related schemes and dreams for 2016 as well, stay tuned….